Landau Forte College Derby is committed to safeguarding and promoting the wellbeing children and young people, and we expect everyone who works in our College to share this commitment.
Staff and volunteers have a duty to report concerns about a child, either because the child may be in need of additional support or if it is thought that a child may have been abused or is at risk of abuse.
There are four categories of abuse:
Physical
Sexual
Emotional
Neglect
Domestic violence is also a child protection issue and sits under the abusive category.
If staff need to express concerns about a child, we understand that this can cause distress or anger for the child's parents. It is important that parents and staff try to discuss these matters as calmly and sensibly as possible.
In some cases the College is obliged to refer to Children's Social Care for children to have their needs assessed or if an investigation into possible child abuse is required. In many cases there will already have been discussions between staff and the students' parents, and the situation and concerns will not be a surprise to the parents. However, parents may not be told that the school has referred their child to Children's Social Care if it is thought that this might put the child at risk.
If you think your child may have been abused you can contact Derby City Children's Social Care directly on 01332 641172 / 956606 (out of hours). Alternatively, you can contact the College's Designated Safeguarding Lead. If you think your child has been hurt, arrange to visit your doctor or go to A&E. Comfort and reassure your child.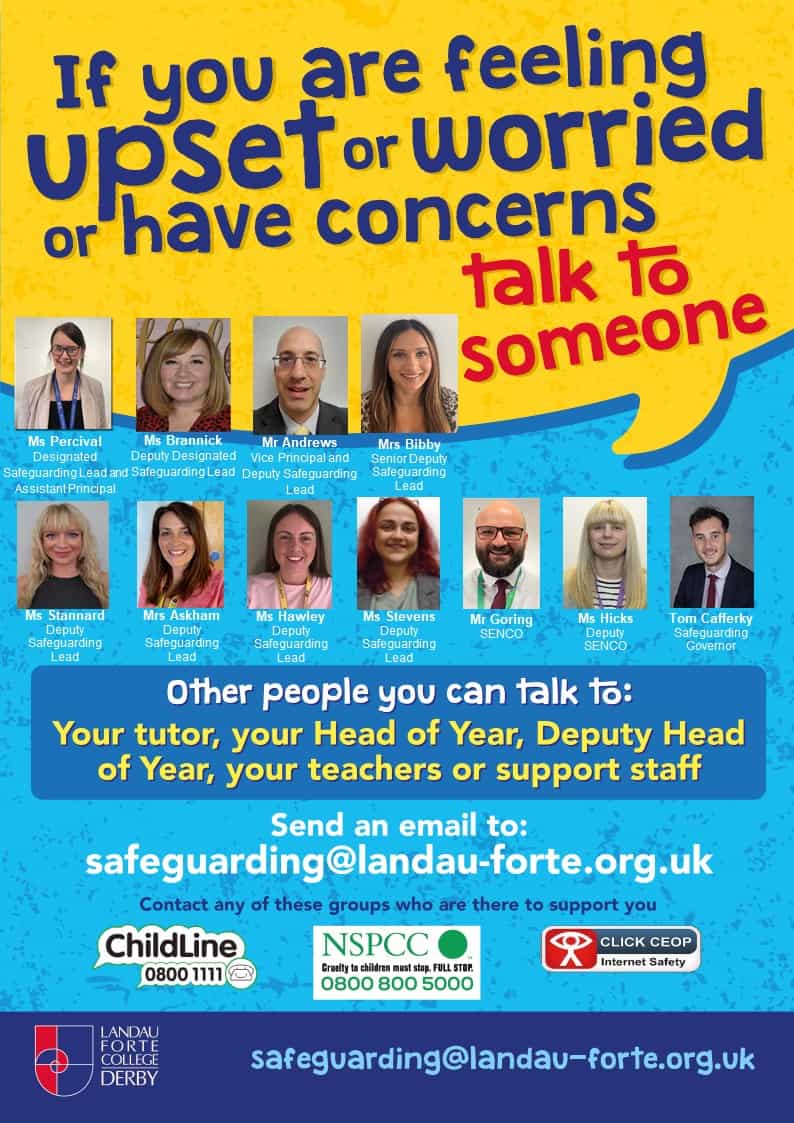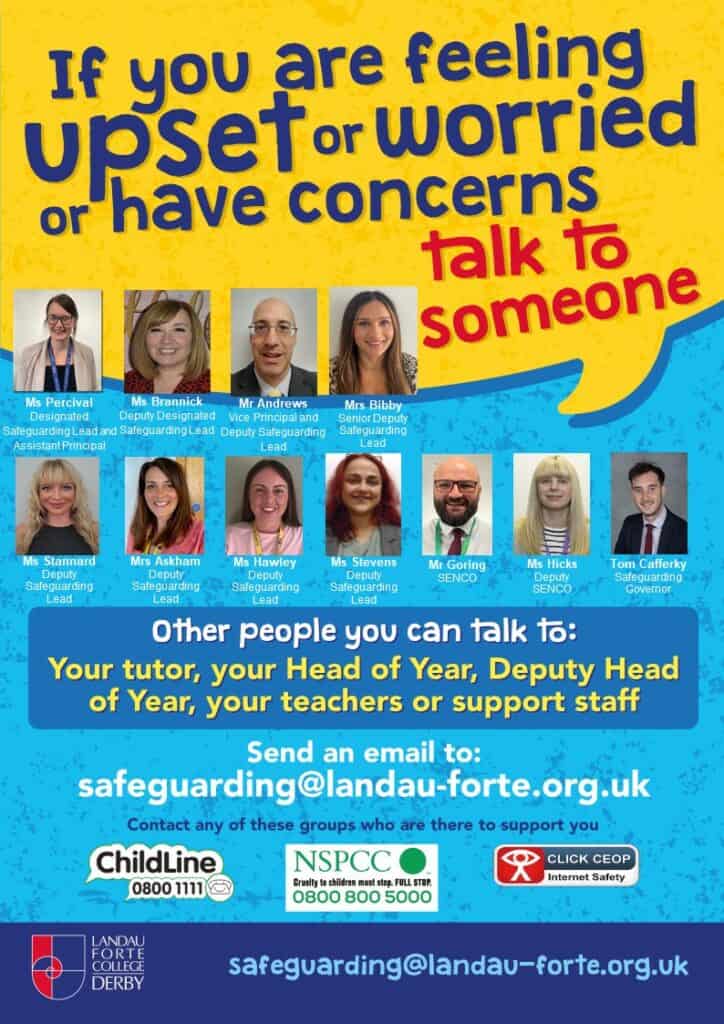 Safeguarding information out of hours and during the College holidays
To pass on safeguarding information out of hours and during the College holidays, please email [email protected] or phone 07812675620 or 07538 962561. Please note that the email and phone numbers are only checked for messages once per day. If your information is more urgent, please contact 999 or Derby Social Care out of hours (details below).
In urgent cases please take the following action:
If a young person is in immediate risk of harm or there is an imminent threat of harm to others, please call 999.
For any other concerns relating to the safety or wellbeing of a young person please contact Derby City Council Social Care on 01332 641172.
Careline is a Derby City out of hours telephone number which operates from 5pm until 9am on weekdays and on weekends and Bank Holidays. They can provide immediate safeguarding support and can provide advice if you have a concern and are unsure what to do next. Their number is 01332 956606.
Further support can be found from the NHS Mental Health Support Line 0800 028 0077 (24/7 Children and Adults in Derbyshire).
Further information
Stopping Domestic Abuse Together (SDAT)
Domestic abuse is abusive, violent, controlling, coercive or threatening behaviour between people aged 16 or over who are, or have been, intimate partners or family members. It can happen to anyone, including teenagers in their own intimate relationships.
Children who see, hear or experience the effects of domestic abuse and are related to the victim or perpetrator are victims of abuse themselves. It can seriously affect children's physical and mental wellbeing, including into adulthood, so we have a responsibility to share concerns.
Intervening early helps to stop abuse getting worse and prevent children experiencing significant harm, so it's important to be alert to signs.
Domestic abuse can take different forms:
Physical: for example, hitting, punching, pushing, biting, burning or choking
Psychological/emotional: for example, putting a person down, controlling them with threats and intimidation, blaming them for the abuse or denying it
Sexual: any form of sexual activity that takes place without the other person's full consent (e.g. physical contact, withholding contraception, or pressuring into sexual activities)
Financial: controlling the partner's ability to earn and use their own money and resources (e.g. stopping them going to work, spending or taking their money)
Technology can also play a role in abuse, particularly among young people. For example, an abuser might use technology to monitor and control their victim, share intimate images without their consent, or post false or malicious information about them on social media.
Signs of witnessing domestic abuse:
Being aggressive or bullying others, or having tantrums
Being constantly or regularly ill, like having colds, headaches or mouth ulcers
Anti-social behaviour
Misusing drugs or alcohol
Having anxiety, depression, or suicidal thoughts
Eating disorders
Being attention seeking
Having problems in school or trouble learning, including playing truant
Tiredness
Becoming withdrawn
Startling easily, being nervous or jumpy
Acting younger than they are
Taking part in more activities outside home
Where to get Help:
SDAT is a Derbyshire Police initiative working with Children's Services.
As part of SDAT Derbyshire Police will notify the College's Designated Safeguarding Lead of every incident of domestic abuse where a child is known to be living in the household.
Safeguarding is everyone's responsibility and this is to help schools with responses to domestic abuse by helping them support children and their families exposed to or involved in domestic abuse. This may mean talking to students about their experiences, raising awareness through classroom discussion and schools activities, and helping victims and families by providing to them signposting information.
Landau Forte College is committed to protecting children and young people and working with partners to stop domestic abuse.
The College's Child Protection and Safeguarding Policy can be found here:
All Safeguarding practice is underpinned by two key documents, which can be found here:
Knife Crime
Keeping young people safe
At Landau Forte Charitable Trust, we are committed to keeping all of our young people safe in each of our academies. Tutors and parents are all too aware that young people can be vulnerable to influences, arguments and behaviour that are wrong. It is our job, working together, which will help us to protect our young people from such occurrences.
At Landau Forte Charitable Trust we do not want to stifle enquiry or speculation but we want to create a culture where this can be done in a safe manner.
Enabling young people to explore the issue of diversity in a safe and secure environment is extremely important and is something which we are very proud to provide.
We have well established safeguarding policies and procedures in place and we actively promote the welfare of our staff, students and visitors on-site and in the wider community.
Below you can find more information on how we safeguard young people in some key areas. Should you require any additional information about our safeguarding policies or procedures please contact us.