At Key Stage 5 we offer a diverse, challenging and engaging curriculum. The College is committed to providing students with the most relevant and sought after courses, with the majority of our students progressing to higher education.
We offer a variety of A Level courses, as well as the Extended Project Qualification. Students also complete at least one meaningful work experience placement. Some students sit additional entrance examinations for a specific University entry.
By the end of Key Stage 5 students are very well prepared for the next step in their learning journey, be that University, the world of work or an apprenticeship. It is our aim that our Sixth Form leavers are equipped with the key skills to compete successfully in the local, national and global economy.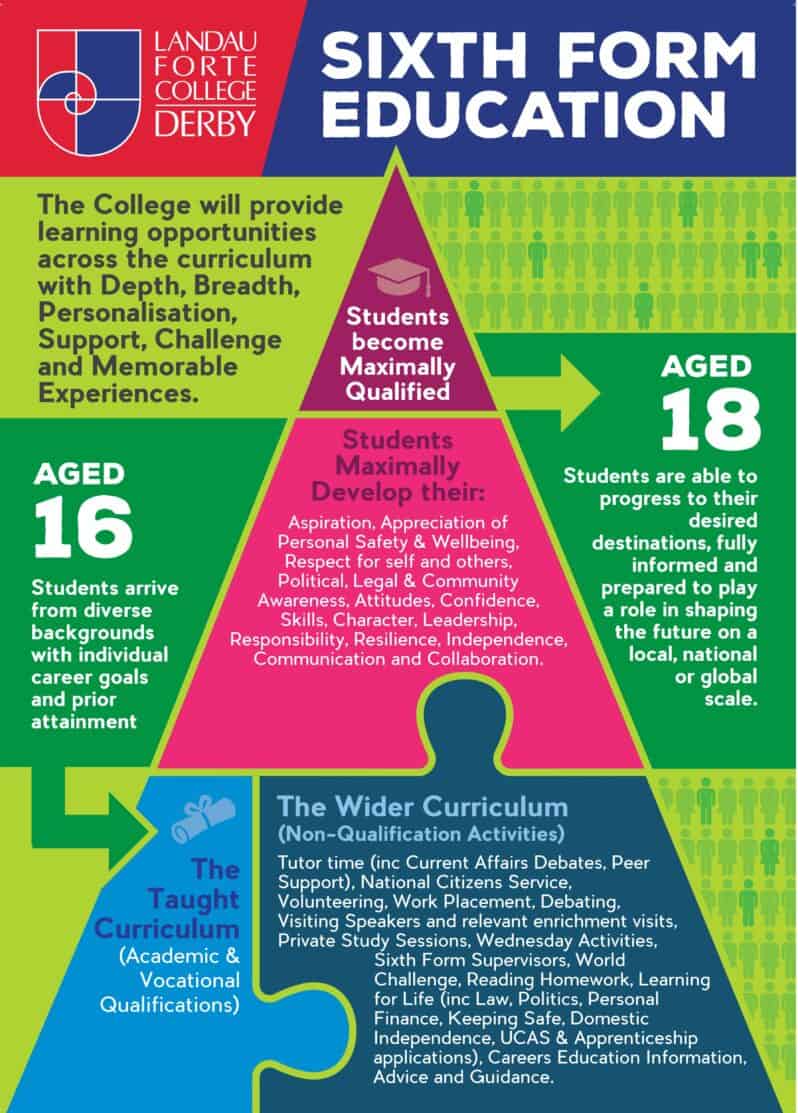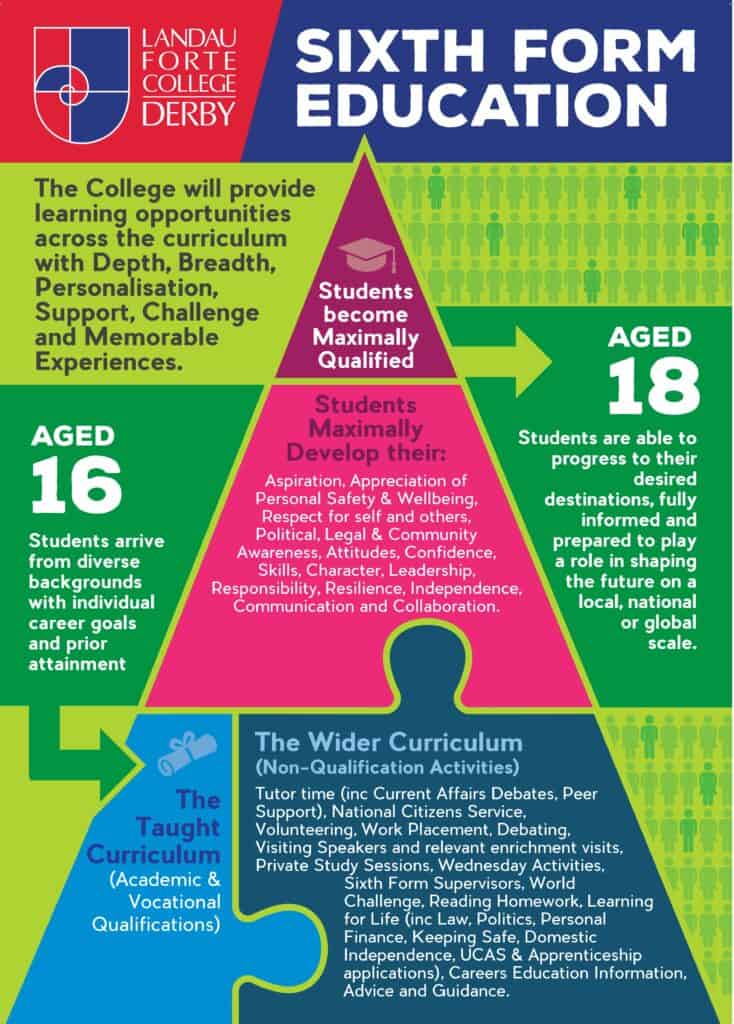 Key Stage 5 courses offered
A Level Art
A Level Biology
A Level Business Studies
A Level Chemistry
A Level Computer Science
A Level Design & Technology: 3D Design
A Level English Language and Literature
A Level Geography
A Level German
A Level History
A Level Mathematics
A Level Further Mathematics
A Level Physics
A Level Psychology
A Level Religious Studies (Philosophy & Ethics)
A Level Spanish
Curriculum overview
Curriculum intent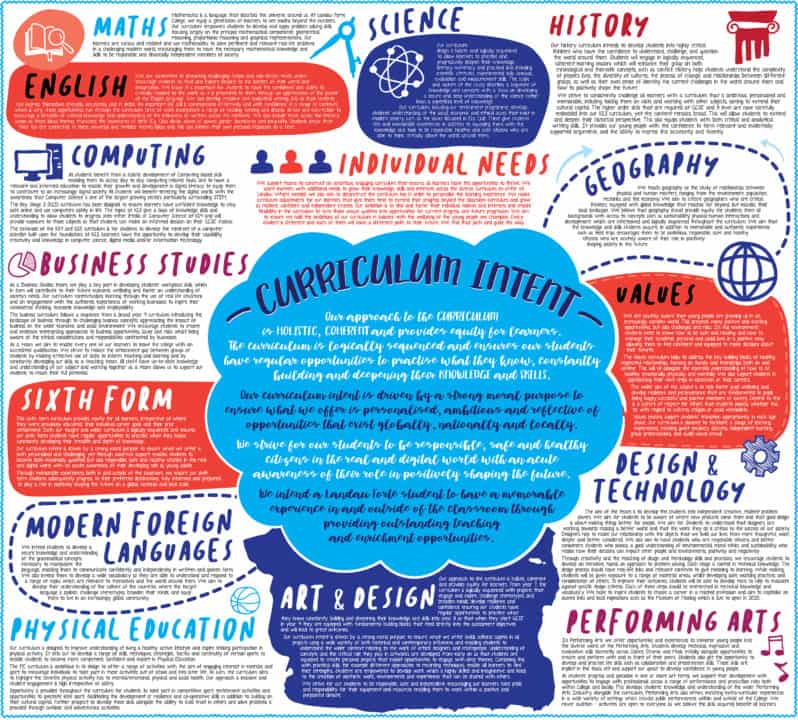 Sixth Form Learning for Life
Sixth Form is a key transition between school and life as an adult, requiring further development of students' personal, social and independent learning skills.  The Learning for Life curriculum supports students by preparing them for the challenges that they will face, feeling confident, capable and informed to make the right decisions in a range of key areas that may impact them now and in the future.
In Year 12 the Learning for Life curriculum includes topics that are relevant to the students, starting with study skills, work placement, an introduction to politics and law and then preparing for employment/university/apprenticeships.  Interspersed throughout the year we cover a range of relevant wellbeing and keeping safe issues, informing students about alcohol, banking security, driving, drugs, employment and contracts, financial management, first aid, internet security and sexual health.
In Year 13 we build on this as the focus turns to post 18 options including university and apprenticeship applications, student finance, budgeting, life at university and domestic independence.  This allows students to make informed decisions about their future. Throughout Year 12 and 13 our curriculum is planned and sequenced to facilitate a range of learning experiences, including guest speakers, debates, group presentations and audio-visual stimuli.  Much of Learning for Life is personalised to each student's aims and aspirations, including those who are disadvantaged and with high needs.
Sixth Form Extension Curriculum
Sixth form students attend a compulsory weekly extension programme of relevant visitors and visits which allow students to make more informed decisions about their progression whilst also contributing to their personal development . These activities are typically delivered by returning alumni, apprenticeship providers and HE institutions, including Oxbridge, but also include oracy development, attending on-line super-curricular lectures and the delivery of regular religious education designed to allow further reflection and discussion.  In addition, all students complete a First Aid training course, experience mock interviews with local employers, receive public speaking training, attend an Open Day at a Russell Group university and complete a week's 'live' external Work Placement.  Many students also participate in recreational sport (including netball, football, badminton and gym), the 'Ready Steady Cook' competition or attend the sixth book club or debating club.
More information
Click here for more information, including how we make the curriculum accessible for those with disabilities or special educational needs (SEN).
If you would like more information about the curriculum the College follows then please contact us.