We have a comprehensive programme of reading activities at College to encourage and build upon students' enthusiasm for reading. These activities include:
Reading Olympiad
The Reading Olympiad is a programme designed for years 7-9 to encourage more frequent reading, and wider reading. As the name suggests it embraces the Olympiad theme, encouraging students to work towards Bronze, Silver, Gold and World Record awards. The programme is followed during fortnightly English lessons in the Information Centre and goes hand in hand with the Accelerated Reader programme, which also encourages and rewards reading. Research shows that the more you read and the more widely you read the greater success you will achieve in College and beyond College, later in life. Students can work towards achieving the awards outside of sessions through reading at home. There is an expectation that at KS3 students read for a minimum of one hour per week outside of College. Students should complete their reading log, and this will be checked during English lessons. Students are rewarded through House Points culminating in a fantastic reward for achieving the World Record –  30 House Points, a chocolate reward and vouchers.
Accelerated Reader
Accelerated Reader is a reading intervention programme from Renaissance Learning run through fortnightly lessons in the Information Centre (IC) for KS3 students. Students complete a Star Reading Test which indicates their reading level and signposts them to the appropriate range of books to read in the IC. Through reading and quizzing, students can make accelerated progress towards improving their reading age. The IC supports the programme through ensuring that a diverse range of new reading books are continually added to the collection. Student and staff recommendations are also encouraged and regularly purchased to enhance the collection. Our rewards are very popular, including the pizza parties!
Parental guides for Accelerated Reader:

Sixth Form Reading (ERIC) Mentors
Sixth form volunteers are trained to support younger students with their reading in Tutor Time. This is a valuable and mutually beneficial learning opportunity for younger and older students alike. Younger students can enjoy some one-to-one help from an older peer whilst older students can benefit from helping younger students with their literacy. This is a great experience to add onto their CV whether going onto employment or University.
Landau Literary Canon
Thank you to the members of our Student Parliament and staff for creating our very own Literary Canon! It contains a range of genres and we would like to encourage as many students as possible to read these and other books available from our fabulous library (library staff will guide you about the appropriate age for reading these):

Noughts and Crosses by Malorie Blackman
Harry Potter and the Deathly Hallows by JK Rowling
The Knife of Never Letting Go by Patrick Ness
The Sum of All Fears by Tom Clancy
Kilo Class by Patrick Robinson
Divergent by Veronica Roth
Counting by 7s by Holly Goldberg
Boy in the Tower by Polly Ho-Yen
Ready Player One by Ernest Cline
The Woman in Black by Susan Hill
The Company of Ghosts by Berlie Doherty
The Hobbit by JRR Tolkien
The Hate U Give by Angie Thomas
Northern Lights by Philip Pullman
Simon vs. the Homo Sapiens Agenda by Becky Albertalli
Other reading activities

The fiction books are regularly supplemented with new books for the Accelerated Reader programme and by recommendations from staff and students.
Support for students who find reading difficult.
A Year 8 reading group is held on a Tuesday after College.
The National Teen Book Club takes place on a Wednesday after College.
Library activities, displays and themes.
Reading challenges, celebrations, progress updates and competitions.
Allocated reading time and activities in Tutor Time (Everyone Reads in College).
Promotion of reading throughout the school.
Library induction sessions for Year 7 students.
Feedback through student voice and Student Parliament.
A wide selection of diverse books and reading materials for readers of all abilities.
A very welcoming and well-resourced library with friendly staff (including our Reading Champion) who work with your teachers.
Landau Readers: Our Carnegie Shadowing reading group of year 12 students, reading and reviewing this years' Carnegie shortlisted books.
Landau Literary Canon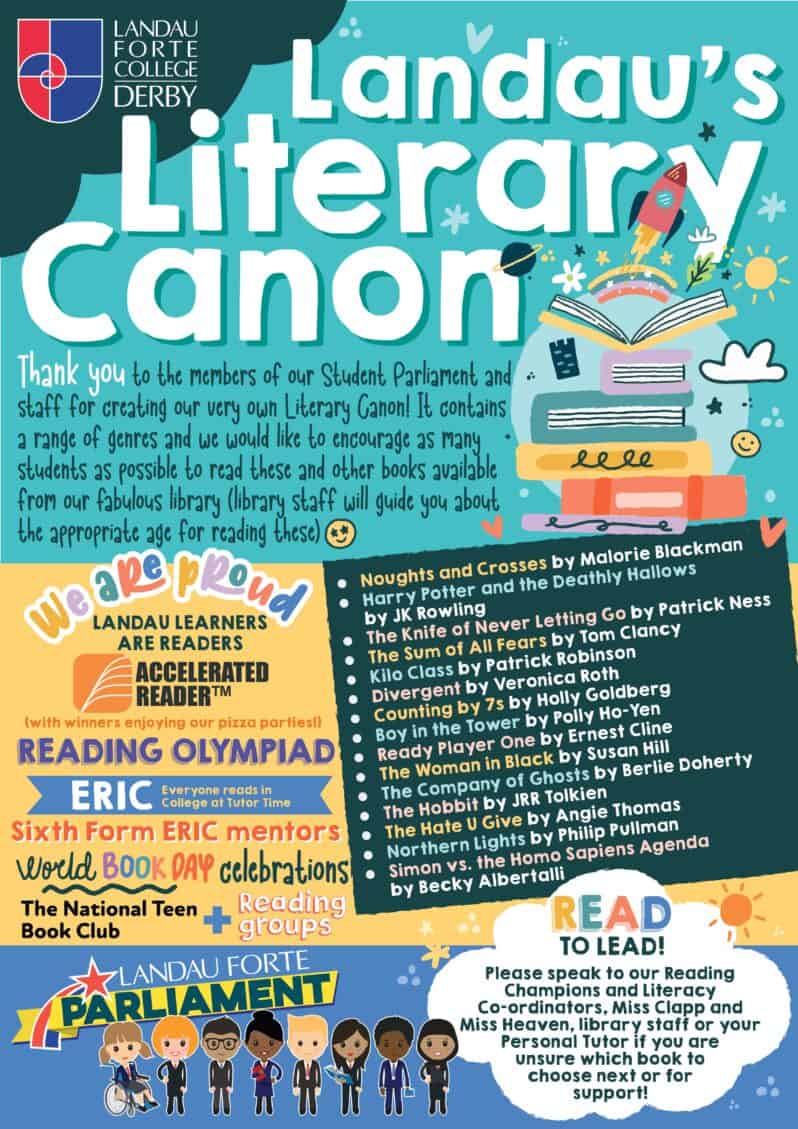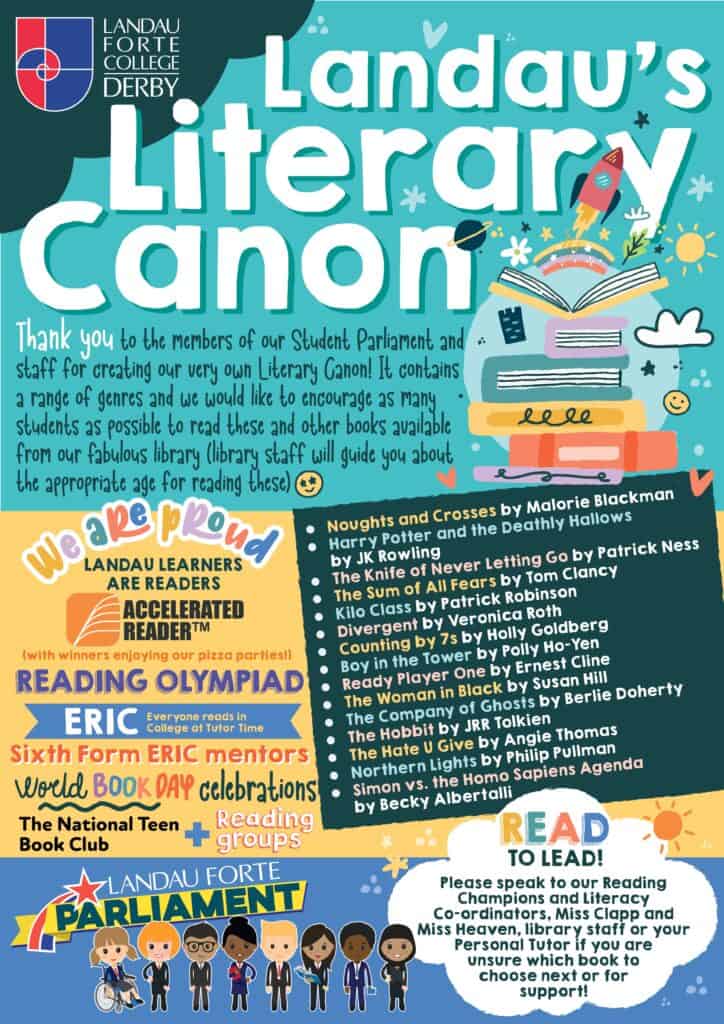 Reading Strategies for Learning: